Budget-Friendly Accommodation Options
Last Updated on August 4, 2020 by Charmaine | The Canadian Wanderer
One of the biggest traveling expense after booking a flight ticket is definitely accommodation! But depending on the type of traveler you are, finding a place to stay should not break the bank. Does every trip have to include a 5 star, luxurious hotel? No. Would it be nice to sometimes splurge and have a nicer place to stay? Yes of course.  I think it's important to have a mix of accommodation options, starting from the budget-friendly, backpacker style to the city-view hotels.
In this article, I'm going to show you different styles of accommodation you can get, all at affordable costs!
This posts will contain affiliate links which means if you decided to purchase, I will receive a small commission to support my site. 
Hostels: The Backpacker Option
Hostels are a good option for those single travelers / group of friends who wants to save money and to meet new people! The great thing about being in a hostel is that it is always buzzing with travelers who come and go and you will definitely meet people who are on the road, just like yourself. You will be able to relate to their experiences, share your itineraries, and hang out together while being in the same city. In addition, hostels have a bunch of events and tour recommendations – anything ranging from pub crawls, historical sites to the best clubs in town – so you can instantly make friends.
There are so many room options when staying in hostels. You can stay either in private or dorm rooms. For many, dorm rooms are ideal because it is cheaper and you can choose dorms as small as 2 people to over 10 people in one room, either single sex or mixed.  My favourite combination is staying in a 4-6 female dorm where I can get to know my roommates and have a decent space for myself as well. Today, hostel websites have also expanded to include bed and breakfasts, hotels, apartments and campsites.  Hostelworld is a great resource to get started!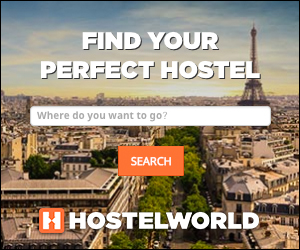 AirB&B: The Private Home
If you're not into a large (and younger) crowd, AirB&B has become a popular option in recent years. Rather than splurging on hotels, AirB&B is an economical option where you pay homeowners a rental fee for either a room or flat per night. It's a win-win situation. For you (as the traveler), you have a safe, and comfortable place to get a goodnight's sleep and for the landlord, they are earning money for renting an extra space. In addition, if you're only renting a room, rather than a whole flat, then the landlord might have a chance of living in the space too. You will get a chance to chat with a local and to find out the best places in town and to get some amazing recommendations in the city. It is a great way to integrate yourself, especially if you are staying more than a few days in the city.
If you haven't signed up as a member, join now and save $50 USD on your first booking with this link.
Hotel: The Luxury Option
Finally, what is a vacation if you can't splurge and enjoy being in a luxurious place? That sounds like the calling of a hotel! Although I enjoy spending some time in a hostel when I'm traveling solo, or in a comfortable home with locals, I also love the incredible views and beautiful interior design in hotels! Sometimes, it is nice to mix it up!
Let's face it though. Hotels are generally on the upscale so it is expensive. That is why I like using Booking.com to find the best affordable hotel. The one thing I really love about this site is that they provide many "pricing" options. If it is a super low price, you have to pay immediately online when booking, but sometimes, for a little bit more, you have free cancellation and absolutely no penalty fees! Sometimes, you don't even have to drop a cent, because you can pay upfront at the hotel themselves. It gives you reassurance and some freedom, which is every traveler's dream!
Have you used these websites? What is your favourite? Do you have any other recommendations?
Love to hear from you!